Berea Sandstone™ Petroleum Cores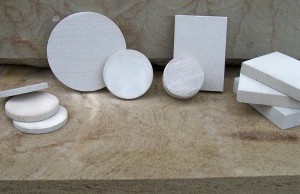 For the past 30 years, Berea Sandstone™ core samples have been widely recognized by the petroleum industry as the best stone for testing the efficiency of chemical surfactants
Berea Sandstone™ is a sedimentary rock whose grains are predominantly sand-sized and are composed of quartz held together by silica. The relatively high porosity and permeability of Berea Sandstone™ makes it a good reservoir rock.
There are 3 variations of the sandstone used for our core samples:
Split Rock has visible laminations but can be classified as homogeneous. These samples typically yield mD ratings between 100-300.
Liver Rock has little top no visible laminations and is homogenous. These samples typically have mD ratings above 500 and can be found with mD ratings up to 900 when measured with air.
Dundee samples are from the Massilon Formation. While having consistent porosities and densities to our Berea Sandstone™, our Ohio Sandstone samples are not considered homogeneous. Its laminations do not run parallel to each other and is very porous, therefore yielding the higher ratings of 900mD-2500mD.
Cleveland Quarries also offers all varieties of petroleum cores most frequently used for testing and research. To see a full selection of petroleum core samples, please email info@petroleumcores.com.
Cleveland Quarries supplies Berea Sandstone™ Cores in a wide variety or shapes and sizes; raw core blocks for customer cutting, cut core blocks, cylindrical cores (1/2" and up), and dimensioned cores (rectangular, square, and irregular shapes).